Free Instagram Post Maker by MustHaveMenus
Create an Instagram Post
Want to keep your Instagram feed stocked with fresh content? Stand out from the crowd and promote your restaurant with our 100% free Instagram templates. Professionally-designed and easy to customize, our Instagram templates are great way to engage with your customers on social media.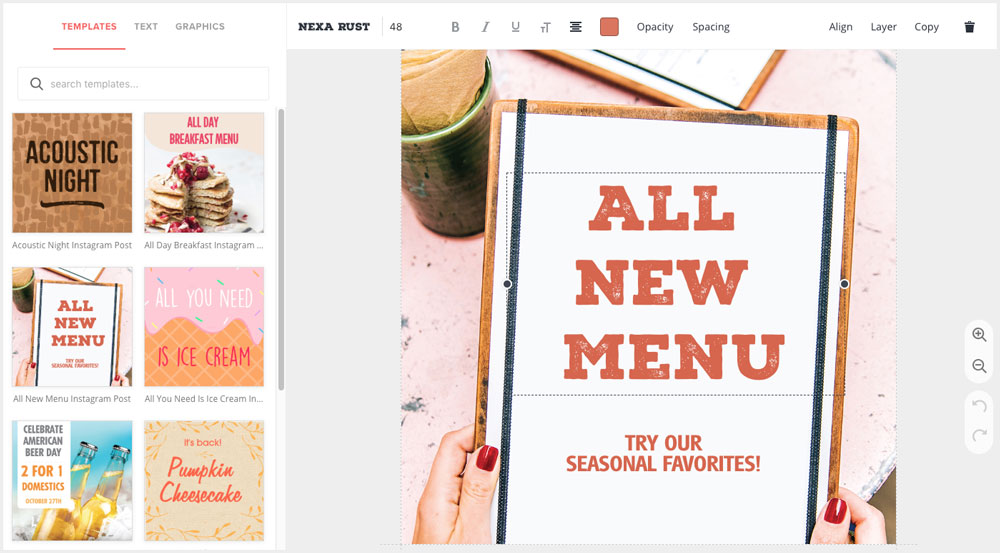 Our Instagram Post Maker is easy and fast to use. Just choose a template, personalize it, and then post it to your restaurant's Instagram feed. The best part? It's all free. Browse our collection of Instagram templates to see all the different ways you can connect with your followers.
How to Create the Best Instagram Post for your Restaurant:
1. Pick an Instagram Template. Choose from our collection of premade Instagram posts. We have posts for all major holidays, announcements, events and much more.
2. Add photos. With our Instagram Post Maker, you can easily add and swap photos for your social media. Instagram is such a visual medium that you will definitely want to spice up your post with imagery so your followers don't just scroll by.
3. Insert your logo. Drag and drop your logo into the Instagram template. Every post is an opportunity to establish your brand, so your logo should be included.
4. Swap colors. Change the post's colors to match your restaurant's brand with just a few clicks. 5. Share. Once you're happy with your Instagram post, just post and share to your newsfeed. For free! 6. Update. Your Instagram post saves to your account, so you can edit your design or make a new one whenever you want.
Free Instagram Marketing for Restaurants
With its emphasis on visuals and popularity among young customers, Instagram is the perfect platform to promote your restaurant. MustHaveMenus makes Instagram marketing easy with our collection of free templates designed specifically for restaurants. Creating a steady flow of content on your Instagram feed doesn't need to be a struggle. Start sharing creative and relative posts with your Instagram followers today.
Make it your Own
After choosing an Instagram template, use our Instagram Post Maker to personalize it to your restaurant. It's easy to customize it with our drag-and-drop editor before posting. Customize it fit with restaurant's Instagram marketing by adding photos, swapping fonts or changing colors. Then replace the filler information with your own, and you're ready to share on your restaurant's Instagram.
Share It!
Once you're thrilled with your Instagram post, just post it to your restaurant's feed and watch the likes roll in. With MustHaveMenus, it's easy and completely free to share your new Instagram design. A few quick clicks and you can let your followers know about new deals, food specials, live events, changing hours, new locations, and more. Or you can post a funny graphic for Halloween. MustHaveMenus has Instagram templates for everything your restaurant needs.
Get Started!
Start your Instagram Post with any of these templates below.