Make a Christmas Flyer with MustHaveMenus
Design a Christmas Flyer
Give yourself a gift that keeps on giving this Christmas season when you design a Christmas flyer with MustHaveMenus! These portable marketing tools can easily be shared all over town, in more places than even the carolers who show up at the doorstep! Street corners, boutique windows, and on the neighbor's welcome mat - they'll be sure to get everyone in the holiday spirit.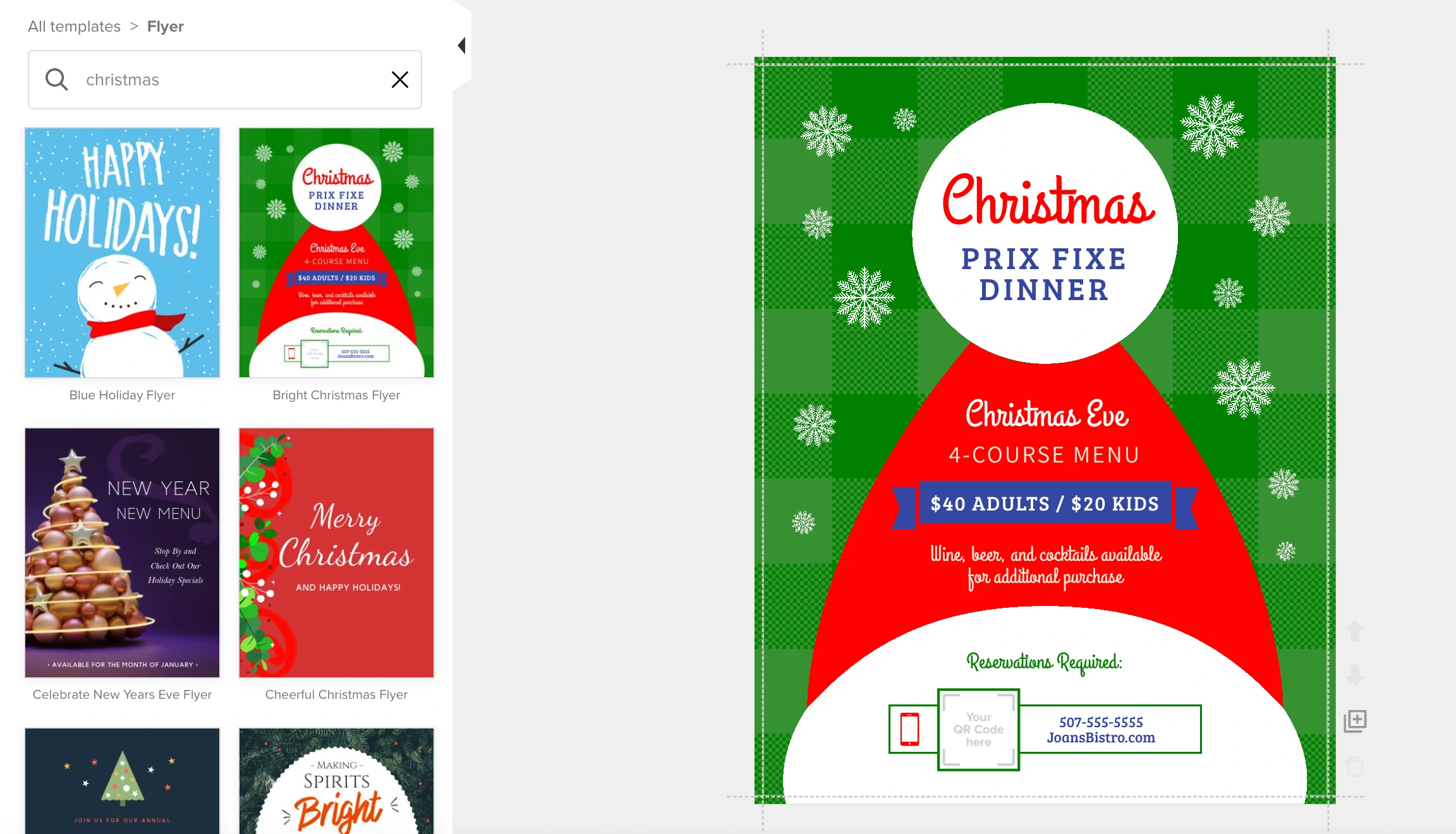 Designing a Christmas flyer is super easy with our intuitive design tool! Follow the simple steps below, and you'll be warming hearts with your stylish flyers before you know it. Take your marketing game to the next level with MustHaveMenus.
Design a Stunning Christmas Flyer:
1. Pick a template. You'll feel like a child in a candy shop when you access our collection of flyer templates - there's something for everyone! You'll find the Christmas flyer template you need without the hassle of searching through unrelated templates.
2. Change text. Do you want bold font that will instantly catch your customers' eyes? Or low-key text that takes a back seat to prominent imagery on your flyer design? With MustHaveMenus' wide range of customizations, you have the liberty to choose from many fonts and text options that will achieve your design goals.
3. Implement your logo and images. With our easy-to-use design tool, you can quickly drag and drop your logo and photos anywhere you'd like. Feel free to add as many photos as you see fit!
4. Swap colors. When you're in the middle of Christmas season, red and green may seem like the only options to choose from for your design's color scheme - but with MustHaveMenus' comprehensive color palette, feel free to go unconventional with your color choices.
5. Order your prints. Once your Christmas flyer design is good to go, order the prints right from our website. They'll arrive as soon as the next business day, wherever you need them.
6. Edit your Christmas flyer at any time. Your Christmas flyer is saved permanently to your online MustHaveMenus account, so whenever you need to make changes, it'll be right there at your fingertips.
Creative Christmas Flyers
Our esteemed design team creates flyers specifically made for Christmas, so you can always expect to find the holiday-specific template you need. Due to our focus on restaurants, you won't have to sift through dozens of unrelated templates before finding the Christmas flyer of your dreams! Plus, when you sign up with MustHaveMenus, you'll also have access to designs for Christmas menus, gift certificates, business cards, and much more!
Christmas Flyers Maker
With MustHaveMenus' state-of-the-art design tool, creating an impressive holiday flyer is a cinch. However, if you find yourself running into any problems during the design process, contact our helpful Customer Service team and they'll solve any issues you have.
Print and Deliver Christmas Flyers
You've finished your Christmas flyer, and are enamored by the design - all you need to do now is order the prints! Go to our website, browse our high quality selection of printing papers, specify your order and we'll take care of the rest. You'll have your new flyers sent right to your door and be marketing like a pro in no time.
Get Started!
Create your new Christmas flyer with any of these templates below.