Restaurant Comment Card / "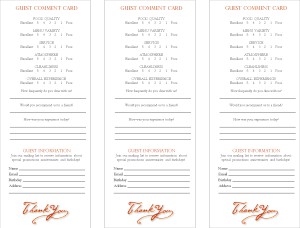 OR
Browse for the perfect menu template
Restaurant Comment Card
Prints 3 per sheet
Print on 8.5 x 11 letter paper
Trim to 3.5 x 8.5 inches
The words thank you are written in red scrip at the bottom of this restaurant response card. There are questions about service, cleanliness and quality of meal. At the bottom, your guests can fill in their personal information about for your restaurant marketing campaign. This comment card can be updated using the Menu Editor.