Dinner Coupon Template / "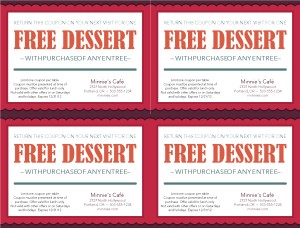 OR
Browse for the perfect menu template
Dinner Coupon Template
Prints 4 per sheet
Print on 8.5 x 11 letter paper
Trim to 4.25 x 5.5 inches
A dinner coupon template offering a sweet, simple style on a 4.25 x 5.5 sized page. Use it to offer your customers a free food item. These coupons can be easily trimmed by cutting letter-sized paper into fourths. There's room for the restaurant's information on the bottom of the coupon. This restaurant coupon can be updated online using the Menu Editor.
Tags
coupon , restaurant coupon , coupon template , make coupon online , thanking customers , dinner coupon , lunch coupon , promotion , email marketing , customer promotion , offer , deal , free