Cocktail Menu Cover / "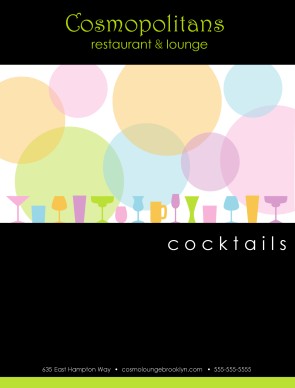 OR
Browse for the perfect menu template
Cocktail Menu Cover
A cocktail menu cover that presents an array of drink silhouettes in pastel colors, with retro style bubble floating behind them. The bar name and address can be changed on this 8.5 x 11 page. Update this menu online using the Menu Editor.
Tags
cover , menu cover , cafe , cocktail bar , wine bar , create menu cover , drinks , bar , black , cocktails , alcohol , liquor , bar menu , 8.5 x 11 , bar menu cover , cosmopolitan