Meet your match.
We've got your perfect menus right here.
Promoting Valentine's Day with Restaurant Email Marketing
Promoting Valentine's Day with Restaurant Email Marketing
Get your customers excited about your Valentine's Day specials with email marketing
Browse 1000's of gorgeous menu templates.
Show me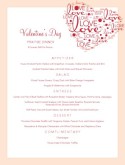 Valentine's Day gives restaurant owners yet another opportunity to increase traffic to their restaurant and to offer something special to their customers. Email marketing best practices suggest alerting patrons two to four weeks in advance of the festivities, and explaining why the restaurant is the only place to be on Saint Valentine's Day. Make sure to send out a second email reminder a few days before the event.
If you are interested in getting started in email marketing, read about why restaurants should use email marketing or try out Or consider a watching a free demo of Fishbowl. Fishbowl makes marketing for restaurants easy. Fishbowl is the leading provider of email and social media marketing software for the restaurant industry. Learn more.
Valentine's Day Dinner
Consider offering a special
Valentine's Day dinner
that includes a glass of Champagne, cup of soup, a salad course, entrée and dessert with coffee or tea. Offer two or three options for the first three courses, and something lush and full of chocolate for the dessert.
When you email your customers, write "Happy Valentine's Day" at the top of the newsletter, and then entice your readers with a full description of the sumptuous special Valentine's Day dinner offerings. Encourage people to call for a reservation and always include the restaurant's phone number, hours of operation and website at the bottom of any email newsletter.
Restaurant Specials and Partnerships
One of the many ways to encourage the public to walk through the door is to partner with a local business for Valentine's Day. For example, offer anybody who comes to eat on Valentine's Day a free, or half-off, or 2 for 1 movie ticket. In the email newsletter, advertise "Dinner and a Movie for Valentine's Day" special.
Partner with the local flower shop for Valentine's Day. For example, tell readers of the email newsletter that people who order and pay for a dozen roses at the local flower shop during the week before Valentine's Day receive a coupon to the restaurant for a free entrée when two are purchased. Consider whether they must use the restaurant coupon on Valentine's Day, or whether the coupon can be used on any evening in the week in which Valentine's Day falls.
Discuss with local business owners splitting the cost of whatever is discounted at either business; the combination of increased traffic and cost-splitting makes it possible for both businesses to make a tidy profit.
Other Ideas to Increase Restaurant Traffic on Valentine's Day
Carnations are a relatively inexpensive flower, so you can treat your customers. Advertise in the email newsletter that all customers on St. Valentine's Day will receive a free carnation. Include an attractive photo of carnation flowers at the top of the email. Have lots of fresh carnations in pink, red, and white ready to be handed to diners on the day and if running out may be a problem, only offer them during the dinner shift.
Offer a special Valentine's Day dessert for all tables. Create a "dessert for two" and include regular coffee or tea (you can charge for espresso drinks). Special dessert ideas include:
Heart-shaped brownies with ice cream
Big heart-shaped cookies with pink frosting
Shortcake decorated with fresh strawberries
All three of these desserts can be cut or baked in the shape of a heart. Make a few ahead of time so that you can take a picture and feature them in the email newsletter.
If the restaurant is decorated for the winter holidays, do so for Valentine's Day as well. Take down the winter decorations and replace them with Valentine's Day decorations to help set the mood. Photograph the decorated front and include the photo in the email reminder sent out a few days before Valentine's Day.
Need more email marketing help for Valentine's Day? MusthaveMenus offers restaurant email marketing solutions, powered by Fishbowl.
Written by: Beth Taylor