RESTAURANT STARTUP GUIDE
Menus, Marketing, & Management tips to grow your restaurant business.
Catering Business
Launching a Catering Business as a Restaurateur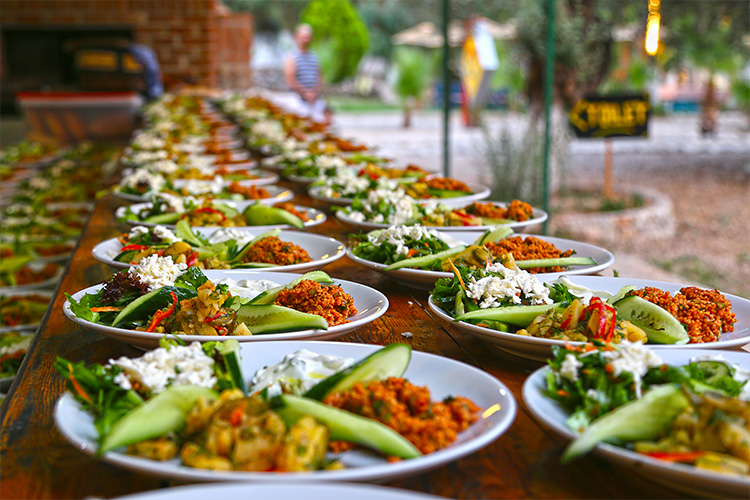 If you're a restaurant owner or manager, adding catering can seem all benefit and no cost. As Jeffrey Summers points out in "Expand Your Restaurant Business Through Catering: What You Need to Know & Consider," you already have most of what you need to get started, from culinary expertise to supplier relationships to leads in the form of your current restaurant customers. Every time you cater an event and do it well, you'll be getting paid to advertise your restaurant. Also, because your primary income will come from your restaurant, you can expand your catering business at any rate you'd like.

As with catering itself, though, the devil's in the details. Without careful planning, you could lose money, hurt your restaurant's reputation or simply find yourself working long and hard at something you really don't like. Below are some key points to consider before taking your restaurant business on tour.


Are You Ready to Cater?
First, be sure that you're comfortable with catering. It's a close relative of event planning, and events often involve unexpected occurrences that can throw you off the course you've charted. It's important in catering to be comfortable both with meticulous planning and also revising your plan on the fly as needs arise. People who enjoy and do well in catering thrive on this kind of diversity, but if you're someone who doesn't like variation in site and event specifics, catering may not make sense.
Pick Your Catering Niche
Next, figure out what your niche will be. Can you work from your restaurant's existing menu to offer something unique to customers? Look at what other caterers in your area are offering and what customers are asking for. According to Jacquelyn Lyn in Start Your Own Restaurant Business and Five Other Food Businesses, most successful caterers advise newcomers to the trade to start small, from their greatest strengths, and grow slowly over time.
Before you begin, carefully consider all probable costs. In Summers' article, Dave Pavesic, Ph.D., a professor at Georgia State University's Cecil B. Day School of Hospitality, lays out these costs. First, there is the cost of equipment. When you start catering, you'll need holding equipment to keep the food hot or cold in transit to the event and probably a leased van with custom racks for holding food containers. You may also want to spend the money for a display of your restaurant and/or catering businesses' names on the delivery vehicle. As your business grows, you'll need chafing dishes, special risers for buffet tables, fountains and any other equipment to ensure that your presentation is impeccable—another requirement for success in catering.
Summers recommends to restaurateurs moving into catering that they think carefully about whether to lease or buy equipment. In the beginning, he advises, you should rent the most expensive equipment when you need it, including transportation. You can charge most or all equipment that you rent to the client. Over time, you can buy some equipment to reduce costs and save the time you'd otherwise spend renting equipment when a job comes in.
Some in food service recommend a full kitchen with its own staff for the catering part of your restaurant business. Steve Armstrong, chef and owner of Chef At Your Door, points out that many catering customers may prefer a restaurant with a dedicated catering kitchen and staff to one that uses its main kitchen and staff with its catering customers. With separate kitchens and staff, he says, the restaurateur is less likely to make mistakes.
You'll also need sales and marketing programs for your catering operation. According to Summers' article, you or an employee (existing or newly hired) should manage the sales program, which will involve printing catering menus, providing lists of services you can arrange in conjunction with catering (e.g., florists, photographers, musicians) and managing an outbound effort complete with written agreements and deposits with each sale. An effective marketing and promotional program may include displays of brochures and signs in your restaurant and donation of your catering services to community events. Catering menus are often printed on
disposable stock
due to the propensity for one-time use.
As mentioned above, detailed planning is essential to catering success. When you cater an event, the service you deliver reflects on your client. Many restaurateurs who have succeeded in catering say that the quality of service in catering is more important than the food. To this end, visit the site where you'll be catering at least once before the event. Make a detailed plan for the event. Prepare more food than you'll need; it's far better to spend a bit more than you might have than to save money and run short at the event.
Additional resources are available to help you with planning and starting up your catering business. Your local library may prove to be a surprisingly good resource: a search for the subject "restaurant management" typically turns up several findings. Some useful online resources include the Web sites of the National Association of Catering Executives and/the International Caterers Association.



Print with Us!
High-quality printing for menus, flyers, business cards, and all the essentials you need to run a successful restaurant.
Ships next business day!
Get a Print Quote