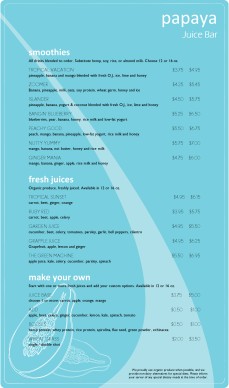 Sorry, this design is no longer available.
Explore 400+ designs in our all-new menu builder.
try it
Smoothie Juice Bar Menu
A Smoothie Juice Bar Menu in legal size (8.5 x 14 inches) in summery teal blue. The outline of a just-cut papaya rests on the bottom left and a lighter blue swoop travels up the page. Customize with your juice, smoothies, and cafe food options in the Menu Editor.
blue , cafe , club , diet , fresh , health food , healthy , juice , juice bar , legal , long , natural , organic , papaya , pool , salon , smoothies , spa