Rococo French Wedding Menu / "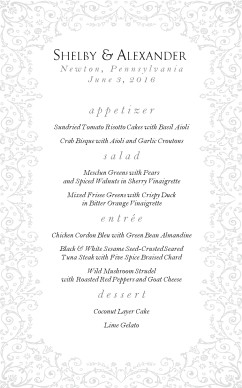 Sorry, this design is no longer available.
Explore 400+ designs in our all-new menu builder.
try it
Rococo French Wedding Menu
MENU SIZE: 8.5 x 5.5 (half page)
Print on 8.5 x 11 letter paper
Trim to 8.5 x 5.5 inches
Consult your local printer for 2-per-sheet printing
A light gray tapestry frames an elegant Rococo French wedding menu. This menu card provides space for wedding reception or event meal courses. Update this wedding menu online using the Menu Editor.
Tags
catered dinner , club , cocktail reception , country club , courses , dinner , dinner party , elegant , event , event dinner , event lunch , formal dinner , french , gray , half page , lace , lunch , menu card , party , prix fixe , specials , wedding , wedding reception