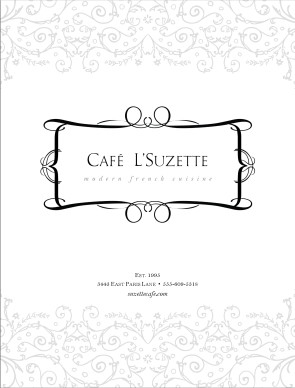 Sorry, this design is no longer available.
Explore 400+ designs in our all-new menu builder.
try it
Rococo French Menu Cover
This 8.5 x 11 menu cover features a top and bottom border of gray tapestry . The restaurant's name is presented in the middle of the page in a black flourish emblem. A simple white background holds the cafe's name, address and phone number. This French menu cover can be updated using the Menu Editor.
SEE MENU SET BELOW

Matching page(s)
More size options
cover , menu cover , cafes , bistro , tapestry , decorative , accent , coils , fine dining , elegant , French , Rococo , fine dining , gourmet