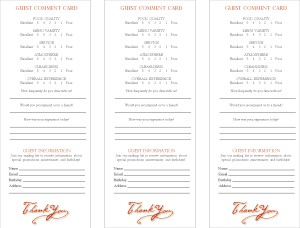 Sorry, this design is no longer available.
Explore 400+ designs in our all-new menu builder.
try it
Restaurant Comment Card
Prints 3 per sheet
Print on 8.5 x 11 letter paper
Trim to 3.5 x 8.5 inches
The words thank you are written in red scrip at the bottom of this restaurant response card. There are questions about service, cleanliness and quality of meal. At the bottom, your guests can fill in their personal information about for your restaurant marketing campaign. This comment card can be updated using the Menu Editor.
comment card , customers , dining experience , email address , feedback , food quality , guest information , mailing list , menu variety , restaurant email marketing , service , thank you