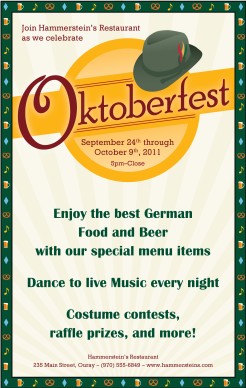 Sorry, this design is no longer available.
Explore 400+ designs in our all-new menu builder.
try it
Oktoberfest Beer Flyer
A poster-size (11x17) flyer for Oktoberfest, featuring beer, pretzels, live music and more. This tabloid size page has a large yellow banner for Oktoberfest, with a traditional German hat and a dark green frame with small colorful icons. The Octoberfest beer festival flier can be customized in the Menu Editor.
October , Oktoberfest , Oktoberfest party , amber , banner , bar , barley , beer , beer festival , brats , bratwurst , events , festival , food , lager , music , party , pilsner , pub , stout , wheat