Mothers Day Brunch Flyer / "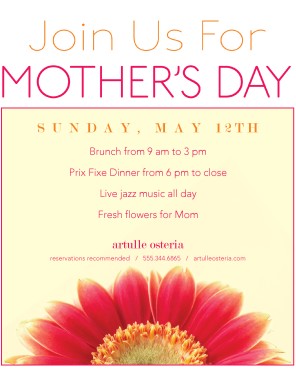 Sorry, this design is no longer available.
Explore 400+ designs in our all-new menu builder.
try it
Mothers Day Brunch Flyer
A bright pink, beautiful flower peeks out of the bottom of this 8.5 x 11 Mothers Day Brunch flyer announcement. A simple design announces details for the holiday event in pink down the middle of the page. This flyer can be updated online using the Menu Editor.
Tags
May , Mothers day , announcement , brunch , buffet , event flier , event flyer , flier , floral , flower , flyers , holiday , holiday announcement , holiday flyer , mothers day brunch , mothers day buffet