Lunch Buffet Catering Menu / "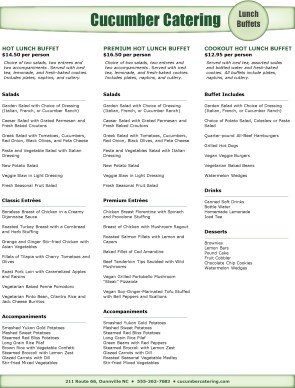 Sorry, this design is no longer available.
Explore 400+ designs in our all-new menu builder.
try it
Lunch Buffet Catering Menu
A lunch buffet menu presented in cool green colors for any type of catering event. Three columns presented lunch buffet options on a 8.5 x 11 page. Sections for hot lunch buffets, premium lunch buffets, or cookout buffets. Update this menu online using the Menu Editor.
Tags
Catering services , breakfast catering , cater , caterer , catering , catering buffet , catering company , catering event , company lunch , corporate catering , event , event catering , lunch buffet , lunch catering , lunches , premium buffet , work lunch
We apologize.
Our engineers are working hard on the problem. Please try again in a few minutes.