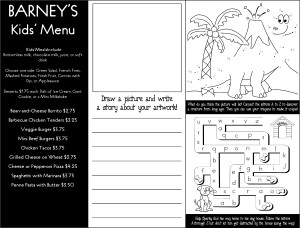 Sorry, this design is no longer available.
Explore 400+ designs in our all-new menu builder.
try it
Kids Menu Game
This kids menu game has three puzzles to keep children occupied at the table. A maze starring a dog is located on the bottom right, and a connect the dots game featuring a dinosaur is on the top right. There's room for little fingers to draw a picture in the middle and the kids menu listings display on the left.
child menu , childrens menu , childs menu , coloring menu , coloring page , connect the dots , dinosaur , draw a picture , fun , games , kids menu , maze , volcano