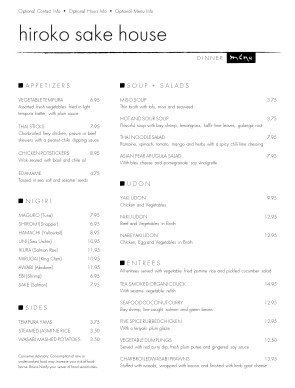 Sorry, this design is no longer available.
Explore 400+ designs in our all-new menu builder.
try it
Japanese Menu
A Japanese Menu designed in letter size (8.5 x 11 inches) for upscale Japanese dinner or casual sushi menu. The restaurant name appears at the top of the black and white design, with simple black square icons accenting each section. Two columns of menu items, including udon, sushi, and nigiri, can be customized in the online Menu Editor.
asian , black , cafe , chinese , dinner , japan , japanese , noodles , pan-asian , ramen , sake , simple , soba , sushi , thai , wok