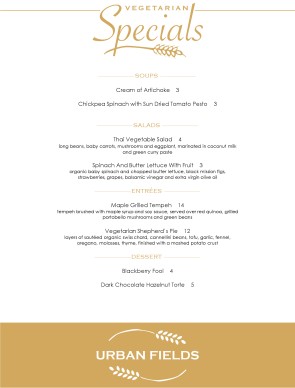 Sorry, this design is no longer available.
Explore 400+ designs in our all-new menu builder.
try it
Healthy Vegetarian Specials Menu
A healthy vegetarian specials menu featuring wheat accents on a 8.5 x 11 page. Sections for soups, salads, entrees and dessert are presented in the middle of the page. Update this vegetarian menu online using the Menu Editor.
lunch , lunch special , dinner , dinner special , daily special , daily menu , vegetarian menu , veg menu , vegetarian specials , specials , daily , 8.5 x 11 , wheat , healthy , organic , natural