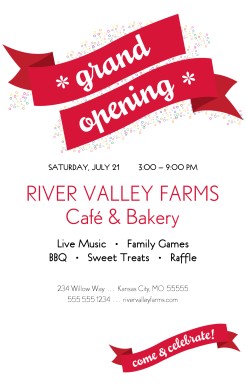 Sorry, this design is no longer available.
Explore 400+ designs in our all-new menu builder.
try it
Grand Opening Flyer
A Grand Opening Flyer in tabloid poster size (11 x 17 inches) to promote your new restaurant's big day. Post the colorful red and white flyer in your store windows to draw the crowds. Customize with your restaurant name and opening day details using the online Menu Editor.
coming soon , event , flier , flyer , food event , grand opening , marketing , poster , promo , publicity , restaurant event , restaurant opening , special events , tabloid