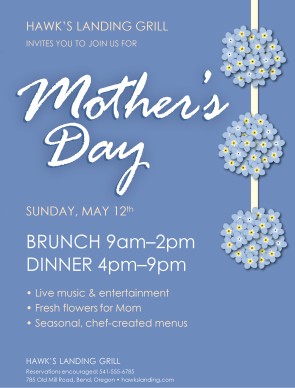 Sorry, this design is no longer available.
Explore 400+ designs in our all-new menu builder.
try it
Flyer for Mothers Day
A Flyer for Mothers Day in letter size (8.5 x 11 inches) with a string of flower posies against a powder blue background. The event title is shown in a large white script, and all other restaurant and event details can be fully customized in the online Menu Editor.
blue , event , floral , flowers , flyer , lavender , letter , may , mom , mother's day , mothers day , poster , spring