Family Thanksgiving Flyer / "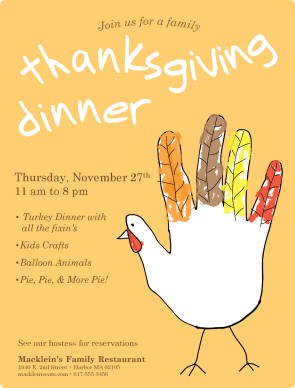 Sorry, this design is no longer available.
Explore 400+ designs in our all-new menu builder.
try it
Family Thanksgiving Flyer
On an orange page, a handprint turkey announces a family-friendly thanksgiving dinner. The words Thanksgiving dinner are scrawled in a child's handwriting above the art project. This Thanksgiving flyer can be updated online using the Menu Editor.
Tags
autumn , drawing , event , fall , family dinner , harvest , holiday , holiday dinner , kids , leaves , pumpkin , stuffing , thanksgiving , thanksgiving dinner , thanksgiving flyer , traced hand , turkey , turkey day , turkey features , flyers
We apologize.
Our engineers are working hard on the problem. Please try again in a few minutes.