Cuban Latin Menu / "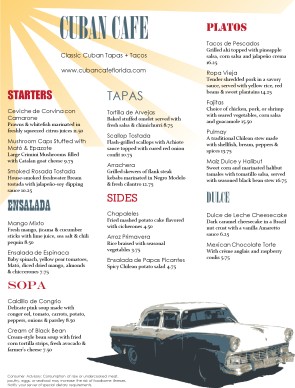 Sorry, this design is no longer available.
Explore 400+ designs in our all-new menu builder.
try it
Cuban Latin Menu
A funky Latin Fusion menu featuring an old-fashioned car. Columns with different font menu section headers add funky style. A sun image in the upper left shone on the eatery's name. This menu has true Cubano flavor. It can be customized with your Cuban cuisine online in the Menu Editor.
Tags
ceviche camarone , mato , epazote , rosada mixto , arrachera , pupusa calabacita , ropa vieja , pulmay , puerco , chapaleles , arroz , picantes , dulce , cabotini , mojito , latin , cuban , fusion , mexican , spicy , Cuba