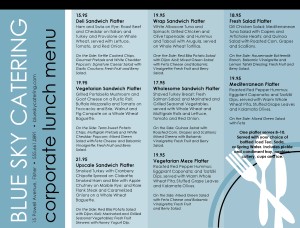 Sorry, this design is no longer available.
Explore 400+ designs in our all-new menu builder.
try it
Corporate Catering Menu
A Corporate Catering Menu in letter size (8.5 x 11 inches) with modern icons of a plate and cutlery in one corner. The catering company information is presented vertically on the left. This menu can be updated using the Menu Editor.
box lunch , breakfast catering , cater , caterer , catering , catering company , catering event , catering services , company lunch , corporate catering , event catering , letter , lunch catering , lunches , work lunch