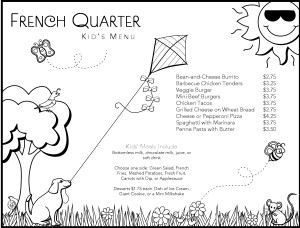 Sorry, this design is no longer available.
Explore 400+ designs in our all-new menu builder.
try it
Color Kids Menu
This pizza kids menu features a summer playtime setting that can be colored, with a dog holding a kite in his mouth and a happy sun wearing sunglasses. Kids menu specialties are listed on the right and there is space for child menu details on the bottom. This kids menu can be updated online using the Menu Editor.
activity menu , child menu , childrens menu , childs menu , coloring menu , coloring page , dog , field , kids menu , kite , menu for kids , summer , sun