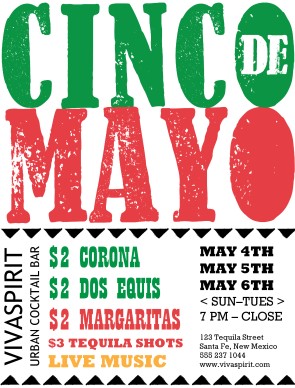 Sorry, this design is no longer available.
Explore 400+ designs in our all-new menu builder.
try it
Cinco de Mayo Flyer
A Cinco de Mayo Flyer in letter size. The words Cinco de Mayo are written in bold, bright green and red letters at the top of this event flyer. Two borders made up of black triangles separate event details. This festive flyer can be updated using the Menu Editor.
Mexican , Mexico , aztec , cinco de mayo , cinco de mayo party , event flyer , festival , fiesta , flyer software , make flyer online , margaritas , mexican flag , mexican food , online celebration , viva , flyers