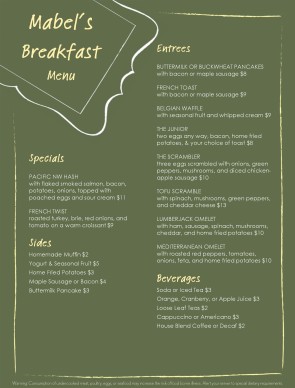 Sorry, this design is no longer available.
Explore 400+ designs in our all-new menu builder.
try it
Breakfast Cafe Menu
The Breakfast Cafe Menu is styled as a classic schoolroom green chalkboard, topped with a sketched yellow frame and playful yellow handwriting fonts. Two columns of breakfast menu items can be customized in the online Menu Editor, along with your restaurant name and details.
SEE MENU SET BELOW

Matching page(s)
bagels , bakery , bistro , breakfast , brunch , cafe , casual , chalkboard , coffee , coffeehouse , continental breakfast , donuts , eggs , green , homestyle